My home page,
and welcome to it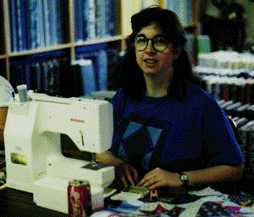 This site is mostly about patchwork quilts and quilting, with a little knitting. But first, a little bit about me:

I'm deeply, head-over-heels in love twice over. First, I found True Love. And eight years later it was love at first sight for both of us with the arrival of Sarah Irene Cartan.
---
I am a quilter living on the island of Alameda, Calif. at the edge of the North American continent. I don't often win ribbons for my quilts; I make them to please myself. Although I've been quilting since 1978, I don't have many of my own. Most went to friends as wedding presents or as first-baby gifts. I no longer hand-quilt, unless it's a very special gift or something for myself.
I collect textile books. On the book review page I've linked titles to Amazon.com.

Knitting
Now that sewing-machine time is limited, I've returned to knitting. Grandma Brazy, master knitter of Martha Squares afghans, taught me how to knit when I was a child. My first project was a golden scarf of dropped stitches, split yarn and mysteriously increasing rows. Later I learned to make Grandma's receiving blanket (garter-stitch pie). Nowadays I'm knitting socks. With experience comes mastery; I'm still on the journey.

Memberships
Quilting and computing do mix. I beta-tested Quilt-Pro 1.0 for the Macintosh platform. In 1994, I helped form and was co-leader of AOL Quilters Online, the then-3,500-member quilting forum on America Online. In February 1996 I retired from the forum staff. I've even used my Macintosh to make a photo-transfer quilt.
My first phototransfer quilt
And please check out these quilt-related sites:
The World Wide Quilting Page
CompuQuilt
Womenfolk
The Stitching Post
---
Professional Information

I write online documentation and work on knowledge management projects, as well as project management. At Sybase, I was a senior technical writer for Sybase Customer Service & Support and edited Sybase Technical News. Previously, I wrote internal software manuals to help users and database administrators use Oracle's Worldwide Customer Support applications. I entered the technical writing field in 1992. Prior to that, I had 12 years' newspaper experience as an editor and reporter.

I am where I am today with a mere bachelor of arts from a land-grant college: Indiana University. Thank you, Indiana Legislature and especially Mom and Dad.

---
Last updated: 9-November-2002
Copyright 1996-2002 Betsy Brazy