FREDERICK OWEN CARTAN, 1928-1998
My father died on April 6, 1998. This obituary was printed on Friday April 10 in both the Helena Independent Record and the Idaho Falls Post Register.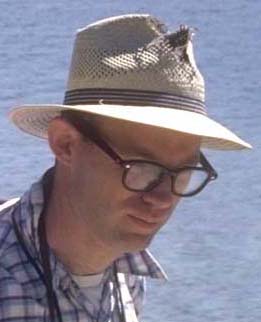 Husband, Father, Grandfather, Scientist, Civic Leader, and Friend, Frederick Owen Cartan, 69, of Idaho Falls, died Monday, in Helena, Montana of natural causes.
He was born October 22, 1928 in Corvallis, Oregon. He attended grade schools in San Gabriel, El Monte, CA, high school at El Monte Union High School, and received his B.S. in Chemistry from the University of California at Berkeley in 1951. He received his Ph.D in Physical Chemistry in 1959 from Montana State University with his thesis on electric moments of VCl4, VOCl3, and the alkyl orthovanadates.
He worked at the Idaho National Engineering and Environmental Laboratory at the Idaho Chemical Processing Plant from 1951-1990. His work as an analytical chemist, health physics research group supervisor, nuclear safety and security scientist and plant process monitoring scientist inspired respect and recognition from his peers. But he felt one of his most important assignments was as a site graduate advisor for several University of Wyoming Ecology Students. He authored numerous scientific papers and his expertise took him around the world as a consultant.
He married Gloria Joan Harrison on July 9, 1955 in Idaho Falls. Their son, John, was born in 1958 and their daughter, Joan, was born in 1961. He shared his love for the out-of-doors with his family, a passion that grew from trips in his youth to Yosemite and the San Gabriel mountains. He found joy in canoeing and hiking, and he liked places that have scenery on a grand scale and trails with few people. The Tetons were his favorite. His son John remembers trips filled with near-catastrophes: putting up tents in a blizzard, fording swift rivers, and dangling from mountains. But throughout it all, Fred was a thoughtful guide and a patient listener.
He was an avid skier; he and Gloria were early members of the Idaho Falls Ski Club. His sister Carol remembers her older brother patiently helping her learn to ski at Snow King. She later discovered her mischievous brother had actually lured her to the top, hiding the size of the mountain in the fog.
He was a voracious reader. As a youth, his mother Irene often had to pull him away from the Encyclopedia Britanica and send him outside to play. He loved learning and never stopped exploring new worlds between the pages of yet another book. He enjoyed puns, classical music and the operas of Gilbert and Sullivan. His daughter Joan remembers her father singing along with recordings and the two of them would often sing together, enjoying each other's company and frightening the family cats.
Fred was also an active member of his community and strong supporter of Idaho Democrats. His help was sought by such individuals as Senator Frank Church, Governor Cecil Andrus and Representative Richard Stallings. In 1994, he ran for the State Legislature, challenging incumbent Republican Reed Hansen. But because of their mutual respect, they often campaigned together, speaking to high school classes and enjoying a race which was run, as one reporter put it, "the way a race should be run." He believed in the importance of a two-party system, in speaking out on the issues, and in citizens being involved in the way their government operates. He lost his race but won the respect of many.
He was a long-time member of the American Chemical Society, The Nature Conservancy and more recently enjoyed participating in the Last Chance MAC Users' Group in Helena. He was always ready to lend a hand and helped in many community service projects.
For the last several years of his life, he and his wife Gloria divided their time between Idaho Falls and Canyon Creek, Montana. During this time he wrote several short stories and worked on a gothic novel peopled by dogs. His declining health sometimes limited his activities, but never his love of nature, his passion for learning, and the joy he found in his family.
He was proceeded in death by his father, Fred Roger Cartan. He is survived by his mother, Irene Cartan, of Paradise, California; his wife, Gloria Harrison Cartan, of Idaho Falls, Idaho and Canyon Creek, Montana; his son, John Cartan and his wife, Betsy Brazy, of Alameda, California; his daughter, Joan Cartan- Hansen and her husband Jim Hansen and their children Samantha and Harrison, of Boise, Idaho. He is also survived by his brother John Roger Cartan and his wife Rose Anne White, of Alameda, California; his sister, Carol Getzinger and her husband Richard Getzinger and their children David and Karen of Kensington, Maryland; and brother-in-law Judge Harold H. Harrison of Helena, Montana.
A memorial service will be held at 2:00 p.m., Wednesday, April 15, at the Idaho Falls Unitarian Universalist Church at 555 E. Street. In lieu of flowers, the family requests donations be made to the Idaho Falls Public Library, 457 Broadway, Idaho Falls, ID 83402; the Lewis and Clark Library Public Foundation, 120 S. Last Chance Gulch, Helena, MT 59601; or a library of individual choice.
You can also read the euology I delivered at my father's service.