THE ROAD TO THE CEMETARY
The old woman walked with soft brown eyes, reindeer eyes. . .

The following monologue is based on a tape recording of Granny as she showed us around the old mining town of Elkhorn, where she lived as a child. It was recorded a few years before her death in 1986.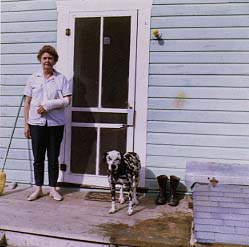 "My dad worked up at the big Elkhorn mine, the Longmaids ran it. Henry Longmaid was the owner of it. And it was considered one of the best silver mines in the United States. They took out more silver out of that mine than they did any other mine in the United States. It's still good, too.
"Right down here was our house. We had three bedrooms and a big front room, a great big kitchen. We used to have parties and dances there. And we sold that house for a hundred dollars when we left, thought we was gettin a lot of money.
"These here places was all lived in and belonged to different people. And that house there belonged to people by the name of Hoffman. And he run the barber shop here. And she played the piano: she was beautiful.
"This road will take us up to the cemetary. I don't want to go up there. . .
"That place there seems to be revenigated, don't it? Somebody must be living there.
"Now this used to be, up through there, they called it tin horn alley. And that was where the prostitutes all lived. Nobody else went there. But this here is what they called old Sister Anne's place, she run a house of prostitution there.
"Sister Anne lived in there, she run the alley. I knew her. She married Ray Barrs afterward. He married her and everybody was stunned because she was the Madame of that street there.
"Now this is the old Elkhorn Union Miner's Hall, right above here, right there. We had our entertainments at Christmas time there, and there was a stage in there and the first piece I ever spoke, at Christmas time, was there and I remembered it so well.
"I was just a little kid and they sent me out and they had a big stage and I had on a blue velvet dress and I spoke that piece. It said
Upon this merry Christmas Day
I gave a little gift away
To Jesus Christ my friend so true
And told him softly I love you.

"And then they all clapped and I walked off and Santa Claus was there with a bag of candy. . ."
"Up there was where Milligans lived. And she died. She drank, old lady Milligan - I remember her. She got drunk and fell in the woodbox and couldn't get out and she died there. She fell in the woodbox and couldn't get out. And she was alone.
"This is the way we used to bring our funerals. We brought the casket with a four horse team, and black horses. And the rest of us all walked in back of it. And the school kids used to make wreaths - they never bought any flowers. If it was summertime we always made the wreaths for the caskets.
"But this is the road to the cemetary; I didn't mean to come this way. I know Bill Hart and Harold and I and all of us went up this road. It didn't seem to be as steep as it is now.
"I have a little sister buried up here. Gosh I don't even remember what her name was; she died when she was born. But there's a stone there that my father put up - it was a rock stone that he found, a rock and he put that up and I don't think there's any name on it, it's just the original rock.
"I often dream of this place because we came up here so many times. Especially when they had Diptheria and Scarlet Fever, they died off like everything here.
"That looks like a baby's grave there but there's no marker. . .
"They're all dead now. But I bet that mine's got silver in it yet. Someday they'll open it again."