Gloria Cartan's One-Room Schoolhouse
This interview with my mother, Gloria Harrison Cartan, is taken with permission from Visions and Voices: Montana's One-Room Schoolhouses by Charlotte Caldwell. This beautiful book is available anywhere, but in order for the entire profit to go directly to the Preserve Montana Fund to benefit historic one-room schools, please purchase it from The Montana History Foundation:
Montana History Foundation
1750 North Washington Street
Helena, MT 59601
406-449-3770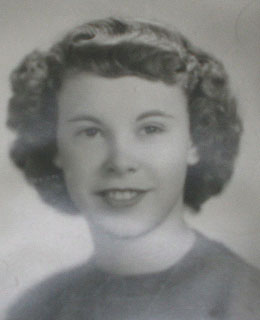 Wilborn School
Lewis and Clark County
Charlotte's Note: Gloria Cartan attended Wilborn School through eighth grade. In 1942, Wilborn school was moved and connected to the back of another one-room school, Trinity School. At that time, they changed the name of the combined schools to Canyon Creek School. After the consolidation, Gloria attended Canyon Creek for one year.
I was born in 1931. In 1935, there was an earthquake in Helena. It shook the chimney off the fireplace, and our house on the ranch burned down in less than an hour; in those days, there was not very good fire-fighting equipment. We had no insurance, and we had to start again from scratch. We ate a lot of venison. My mother even canned it. I never touch it now.
I started going to Wilborn school before I was in first grade. We lived close to the school and were friends with the teacher, so I was allowed into school a year before I was the correct age. In those days, there were no pre-schools, and school did not start until first grade. We had a fence around the large schoolyard. Kids would ride their horses to school and just let them loose in the schoolyard.
My dad was a rancher. He also had a sawmill and supplied lumber for the mines. When the Jay Gould gold mine was up and running, all the miners' kids went to Wilborn School. At that time, there were about 100 families in the area. My first four years, I had a man teacher - Jay Noble Mason. From the East with a New England accent, he was a great teacher. I can remember his accent as he read stories to the entire school after lunch. One advantage of a one-room school was you could listen to stories for the upper grades, too, like The Adventures of Tom Sawyer.
When the Jay Gould mine shut down, the miners and their kids moved elsewhere. That's when I became the only kid in school. My sixth grade year, I was the only student and went through three academic years - sixth through eighth grades - in one year. I had a very good teacher, Ella Olgavie, who had been a tutor for the Nelson Rockefeller family. She worked the heck out of me. I was 11 when I completed three years in one.
In 1942, Wilborn School was moved to Canyon Creek to be joined with Trinity School. The combined schools were renamed simply Canyon Creek School. It was during World War II, and there was a shortage of teachers. Both my teacher and I transferred to Canyon Creek School, and my teacher's mother lived with her in the small teacherage. I went into the eighth grade again, as my parents didn't want me to go on to high school since I was only 11 years old. Although I had already finished all the coursework for eighth grade and I knew the studies well, my teacher was able to give me interesting supplemental work that wasn't redundant.
That winter was a difficult one. My dad worked at the Mike Horse Mine, a lead-producing mine for the war, and my brother was in the army. I rode the stage with the mail to school each morning. It was not a horse-drawn stage, but a truck-type bus. My mother sorted mail for the post office. There was lots of snow shoveling and taking care of cattle. I sold goat milk to the Veterans' Hospital - it's a lot easier to milk a goat than a cow!
During my year at Canyon Creek School, there was only one other eighth-grader. When I went to Helena High School at age 12, there were 800 kids in school. It was a bit of a culture shock, but I enjoyed it. My parents got a place in Helena, and we would go out to the ranch on weekends. I graduated at age 16 and got a History scholarship to Montana State College in Bozeman. I graduated from college at age 20 with a Chemistry major. My parents put a lot of value on education. I think my brother and I were the only two in the school district of that era that went on to college. I received a solid education in our one-room schoolhouse. Canyon Creek School is still operating as a two-room school.